Jim Stone updates
posted by
freewill
on Jan 09 2017 in
Jim Stone
Link: http://82.221.129.208/baasepagem5.html
A huge number of great messages came in today but I have a huge headache and it is far more than normal messages. I will get to them tomorrow, but to summarize the gist of it:
1. The language gaffe in the CIA report may not have been a gaffe at all. Obviously they were talking about "influence on the Presidential election campaigns," However, if that influence was referred to as an "influence campaign" rather than an attempt to "influence the campaign" then it would not be a gaffe at all. But the failure to provide differentiation in the wording to specify what they were talking about is still very bad even if it was not quite as bad as I first thought. I'll give them the benefit of the doubt and stop laughing at them, but MY GOD, even without the gaffe the CIA report is absolutely pathetic.
I still think it was a gaffe and that they subcontracted it out because it says right in the text that the report is a "product".
2. I know there are serious issues with the Fort Lauderdale shooting that are getting censored. My gut says it was a brain washed patsy who arrived with blanks and media magic and crisis actors did the rest. But I don't feel like commenting on this beyond that right now. And it really may have been to cover up the DHS takeover of the election process, which with Trump in power I think will backfire badly.
3. Obviously Trump is in severe danger, and they fully intend to kill him if they can get away with it. But I also think it is practically assured that Trump is a big time alt media conspiracy fact seeker and he's not even a little bit stupid about anything, and I mean anything. He did what it took to get in, and basically misled politicians thus far, and once he's safely in charge a lot of people are going to be stunned that he really is "one of us". Obviously the elite know this, which is why he is definitely in danger, with MSM figureheads calling for his assassination, intelligence upper ranks calling for his assassination . . . . . He's a lot smarter about this than I thought he was and that is good.
On that note, Anonymous sent:
"I previously posted my strong concerns that Donald is in danger. It has since come to mind another possibility that I can only surmise, having no direct evidence. One of his first priorities was to make strong ties with the military through General "Mad Dog" Mattis. He is known to be reasonable, but is quite ruthless when provoked. He is also respected by troops who are loyal to him. Mattis is the ideal one to give Trump a life insurance policy based on threat of reprisal. That is most likely in play so that Donald's death will result in certain military actions against the Cabal and specific leaders taken out. Like an offer they can't refuse that has been privately delivered and in effect on his death or harm to him period. He dies, you die without conditions. That would cause the Cabal to even take measures to protect him."
4. A while ago I talked about how the homeless were being taken as practice detainees. And I really think this is going on, even now. With that as a preface, I am just going to post this mail:
Just a reminder, while we celebrate Trump's victory, the situation on the ground is still dire. The homeless problem here in Seattle is still getting worse by every single day. And they are still disappearing by the hundreds at a time. We are now seeing tent cities setup on the massive concrete barriers that divide I-5 in the downtown area. These islands are extremely dangerous to reach on foot, because you need to cross 5 lanes of downtown interstate. But people are desperate enough that they are now camping in places that require some serious footwork (and balls) to reach. This is probably because all the spaces in the city are getting filled too quickly, and so they can avoid being harrassed and inevitably disappeared by the cops.
Martial law is most definitely out of the question. It would be a logistical nightmare from hell. But mass riots are going to be inevitable if something is not done quickly. Unfortunately, 99.5% of the population is too brain-dead too even notice ANYTHING at all. Their lives consist of wake up at 5, work their slave labor job, go back to their moldy tinderbox (house), and drink/drug themselves into a stupor while watching the Seahawks game. They are obviously too mentally retarded to take part in any actual rebuilding effort (a "new deal" type project). Lots of them have fancy degrees saying they know how to build things, but they only understand how to build repeat whats in the textbook.
Look at the laughable Seattle tunnel project for a perfect example. The 2 TBM machines that dug the channel tunnel were designed and fabricated in Kent, WA. But somehow, it made sense for us to custom order the largest tunnel boring machine EVER, from Japan, and have it delivered to our specially fitted pier, where hundreds of valuable waterfront acres have been turned into a massive construction site. This option was chosen over a simple "cut-and-cover option which would have been finished years ago and would have had twice as many lanes, without tearing up massive chunks of the city for years on end.
Most of the real innovators in America are on the verge of, or in the process of "going galt". I myself walked out of my engineering job, because I was sick of being verbally abused every day while being paid barely enough to eat and drive to work. The average population here is beyond hopeless, and most likely will not survive without a major, naturally occurring, purge. Its not worth it, working your ass off everyday just to uphold an incompotent child-like population.
When I hear someone say "where did all these homeless people come from? It's so strange, I dont get it." It's very hard to resist the tempation to grab a baseball bat to knock these people out of their comas."
There is a lot more than this in the message box, and a lot more to report on but I have a headache. I will do it tomorrow.
CIA report
I have changed my report on the CIA Russian Influence report to give them the benefit of the doubt on the language gaffe I mentioned in the first report. But even without that, the report is enough of a joke. So all I am going to do is remove the language gaffe part of it.
The intelligence report referenced in the report below is HERE. The only things of substance in the report are from 2012 and then they are tenuous at best.
The report CLEARLY STATES that there was no assessment made on the impact of Russian influence on the 2016 election, even though it is advertised as such all through it! Here is a direct quote, that shows the gaffes. I'll get a capture up later, but for now the site is in combat mode so I cannot upload the capture. This is a text copy/paste from the report:
Scope and Sourcing
_________________________________________________________
Information available as of 29 December 2016 was used in the preparation of this product.
Scope
This report includes an analytic assessment drafted and coordinated among The Central Intelligence Agency (CIA), The Federal Bureau of Investigation (FBI), and The National Security Agency (NSA), which draws on intelligence information collected and disseminated by those three agencies. It covers the motivation and scope of Moscow's intentions regarding US elections and Moscow's use of cyber tools and media campaigns to influence US public opinion. The assessment focuses on activities aimed at the 2016 US presidential election and draws on our underst anding of previous Russian influence operations. When we use the term "we" it refers to an assessment by all three agencies.
* This report is a declassified version of a highly classified assessment. This document's conclusions are identical to the highly classified assessment, but this document does not include the full supporting information, including specific intelligence on key elements of the influence campaign. Given the redactions, we made minor edits purely for readability and flow.
HERE'S THE KICKER FOLKS: DRUM ROLL -
We did not make an assessment of the impact that Russian activities had on the outcome of the 2016 election. The US Intelligence Community is charged with monitoring and assessing the intentions, capabilities, and actions of foreign actors; it does not analyze US political processes or US public opinion.
OK, LET ME GET THIS STRAIGHT: They said, in their own words, that they did not make an assessment of the impact the Russian activities had on the 2016 election. AND:
As Sputnik News pointed out in the next report - Old and outdated data used, this report was actually finished in 2012, dredged up and re-badged, decorated, and sold as something that was relevant for an entirely un related election in 2016.
So there you have it, the BEST nuke they have against Trump and it is a LOAD OF OUTDATED UNRELATED CRAP.
Good for a laugh. Banana republic all the way!
Intelligence report that proves Russia rigged the election was from 2012
Yep, they had their report allright, and it was finalized years before Trump even decided to be a politician. Remember, all the way back in 2012 when they cracked down on PressTV and got them removed from all broadcasts that could be picked up in the U.S.? THAT. It was part of the same, with nothing new since 2012.
This did happen in 2012. I remember when they put tons of pressure on RT and actually succeeded in wiping out PressTv. The web site is still there, but PressTV was effectively dead. The intelligence report they threw at Trump was simply that old report from 2012, which means that in the context of Trump's election it meant absolutely nothing and is completely irrelevant.
For the icing on the cake, it turns out that the television programs RT was running in 2012 that the intelligence report was so against were discontinued before the 2016 election cycle even began. This is why we were told "the intelligence is real" and "no you cannot see it", because yes, it was a real report but NO, it meant NOTHING this election cycle.
This is a quote from Sputnik News, and a few others are starting to pick up on this also.
"A highly-anticipated declassified US intelligence report, aimed to prove that Russia supported Donald Trump, has turned out to be a huge embarrassment. The annex that contained factual material that was thought to provide evidence of RT influencing the American public was compiled in December 2012, right after the reelection of Barack Obama.
The report focuses on television shows and interviews that took place four years before Trump was elected, and well before he was even a politician.
In Annex A of the report, intelligence agencies claim that "Kremlin's TV Seeks To Influence Politics, Fuel Discontent in US." Buried at the bottom of that page is a note stating, "This annex was originally published on 11 December 2012 by the Open Source Center, now the Open Source Enterprise."
I am deeply worried
They are losing on every front to Trump. I do not think people realize to what extent Trump is already living up to his word. And I am very worried they will either kill him or find another way to eliminate him.
Obviously others are worried about this as well. All I can say is that this time around, they failed to rig the vote enough. My belief is that Ross Perot won, that Ron Paul won, and that Trump ended up being so popular that he won by a margin they were not predicting, that they had the steal in anyway, and were stopped. Bottom line? I do not believe in any way that the American people actually voted their way into the predicament America is in.
We live in a nation that has had a rigged electoral system for so long that we truthfully have to worry about our law enforcement and intelligence agencies murdering a duly elected President. We live in a nation so corrupt that Bush was definitely involved in murdering Kennedy and then went on to become President because the rigged system ensured it. We live in a system that is so compromised that it could do a 911 and no one muttered a word.
So I am deeply worried. The police man has arrived, but he is a lone sheriff in a gang of a million murdering thugs. The only way he will make it is by the will of God. Please everyone, pray.
THE SENATE VOTED TO REPEAL OBAMACARE.
Trolls are out in full force acting ignorant about why people are happy they are losing their health care!!!!! WHAT A JOKE! Obviously no one wants to be forced to pay endlessly increasingly over priced health insurance! Obamacare was NOT "national health care", it was absolutely NOTHING, and I mean NOTHING MORE than a mandate to force people to buy exhorbitantly over priced health insurance under threat of prosection, fines, and jail time.
They are setting the stage already for Trump to just smash it gone on DAY ONE.
Fort Lauderdale shooting
For some reason I do not think anything will come of this. Other people are asking what I think, so here is my opinion:
This was done by the U.S. military intelligence or CIA probably under final directive from Obama to convince Trump and/or set the stage for gun confiscation from the mentally ill and vets. I have read over several reports and this is my conclusion:
American military intelligence either found a susceptible military enlistee or a susceptible member of the public to brainwash and program and/or hypnotize into doing it. It may or may not have been real, but the so-called shooter thought it was. They made sure he got on the plane with a gun in his baggage, to use at his destination. It may have been loaded with blanks. When he got to his destination he executed his programming and woke up.
Under interrogation he remembered being taken by American intelligence (CIA or other) and forced to watch ISIS videos. He knew they were American intelligence, so they must have been wearing uniforms. He probably had it all happen in the jail of a large military base to keep it concealed as well as possible. He has specifically stated he was taken and forced to watch ISIS videos. And during this time, they probably programmed him to "convert to Islam" as the icing on their psy op, and he probably does not even know Al Fatiha or any other sura of the Quran which is required for prayer. It would actually be a complex job to accomplish that, and it appears his programmers were too sloppy for that.
My guess is that all of it was dreamed up and rushed to completion AFTER Trump won the presidency because the patsy is not adequately programmed and seems to be remembering everything. That would be a GIGANTIC OOPS. They are supposed to either be dead or so mentally wiped out that nothing of the sort that is being said by him would ever be said. They screwed this one up big time.
This was obviously done to justify more "terror checks" on airplanes, to back stab veterans, to get gun control legislation passed - and it was a HUGE SCREW UP. You do not have your patsy saying American intelligence forced him to watch ISIS videos before doing this unless it is a MAJOR screw job, SUCH A MAJOR SCREW JOB that it is my guess white hats screwed it up on purpose after receiving orders to do it that they did not agree with.
By all measure, they did a SH*TTY job of programming the guy, made sure he still had a huge amount of his memory, put him on the plane with blanks, and the rest of the story was scammed by a lying media and actors. If the bullets were real, whoever programmed him to do this screwed it up ON PURPOSE, AS A MINIMUM. There is no conceivable way he'd have arrived knowing he was forced to watch ISIS videos absent an enormous and/or purposeful screw up.
Trump is going to look at this, and rather than enact legislation HE IS GOING TO DRAIN THE SWAMP. This kind of crap is NOT going to fly with him.
The autistic beating
Anonymous black guy sent: (this is pretty good)
About your white kid getting beat not being a hate crime...I'm a black American and I think what those animals did to that kid is disgusting! So disgusting until the only possible way to get justice is to violate the 8th Amendment of the US Constitution! (I mention my race because I want you to know, not all of us lack compassion or agree with the Dhimmicrat Party!)
Turns out those idiots picked the wrong victim! - there are laws against harming someone because of their disability, and since he is disabled it turns out that YES, THIS *IS* a hate crime! But the only justice is in God's hands because to seek it anywhere else is to violate the 8th Amendment. Anything less than an 8th Amendment violation is to cut the perps of this nightmare a big fat break when compared with what they did to him. And as we all know, criminals have more rights than the law abiding citizenry these days.
May God bless you and continue to protect you in your well-planned struggle to keep getting the truth out. Crazy world we live in these days!"
My response: Thanks for that, it adds perspective! 8th Amendment, (it is short): "Excessive bail shall not be required, nor excessive fines imposed, nor cruel and unusual punishment". So what this writer is saying is that "cruel and unusual punishment" would be the only way to get even! Ha, good one.
With regard to Trump firing every single foreign ambassador,
Anonymous from Britain sent:
Good for you Donald fire the f******g lot, don't stop, don't listen to quislings, head down fists up plough into the b******s. Listening to the BBC here in UK and it's absolutely shameful the way the anti Trump Russian agenda is being presented as being true facts 99% of the time with the 1% of the other side of the argument being put across like it was a fairy tale. Right wing propagandists being given air time with sympathetic announcers asking the "right" questions to help them make their point and not one iota from the other side of the debate. Totally disgusting."
My response: The MSM is going to go the way of the "Russian hackers", just watch. All they will do is spin while the world moves on around them. What good could it possibly do to bash Trump in Britain anyway? Family is family I guess, and the Jews own the press in both locations.
Don't believe the nonsense about Mexico gas
They are saying (everywhere evidently) that Mexico is getting free market pricing now and that is why it got so bad. That is NOT TRUE. Real free market pricing will not happen for practically all of Mexico until NOVEMBER 2017. Free market pricing means that gas should be below 9 pesos a liter. Instead it is around 20. That's $4 a gallon.
Pena Nieto was on TV last night claiming American free market pricing was causing the problem but that does not wash. All you have to do is look at the commodities indexes for the truth, Mexico's prices are well over double. Someone is raking it in, as they always have, prior to this "crisis" gas was already 2X over market.
Once the real free market kicks in, Mexicans are going to see gas at $2 U.S. a gallon, because they are allowing several competitors in. The major price spike has hurt Mexico's image badly and THAT is the reason why the peso went straight into the tank and NOTHING ELSE. That is likely to actually help Mexico's economy though, because it will make exports cheaper to buy, and Mexico is a heavily industrialized country. Mexican quality totally trashes China's quality on top of it. China tried to bring cars in. They were OK, but that adventure failed because Mexicans simply produce better cars and no one wanted Chinese. You might not be inclined to believe it, but Mexican made cars are actually good.
We are waiting and seeing where the gas prices finally land, and have enough stored to last at least two months.
Anonymous sent:
"Ft. Lauderdale shootings used to distract from Trump's hack info presentation"
My response: That is how they play.
The final electoral college count is done, making Trump's win official
The DOW almost hit 20,000 for the first time!
It was within a point at 1999.63 and then dropped a few points, you can watch this progress HERE
Obviously this is a drugged and hyped market that can suddenly turn into confetti, but this is interesting nonetheless. I am reloading the page occasionally to get a capture of it if it hits 20,000.
I am putting this Nibiru painting back up for a while because it is really good.
Nibiru
I am a fence sitter on Nibiru. I doubt it is real.
However there is a guy in my town who spray paints awesome planet paintings on the pavement in the city center, where thousands of people go. I told him what Nibiru was supposed to be, and told him to do a picture of a "huge dark planet of death" coming to destroy a civilization. Claudia and I then went to the bathroom and came back 10 minutes later and it was done. The crowd that was watching the painter liked this painting and applauded. It is indeed good. So I figured I'd post it.
This looks like it would make a great smart phone wallpaper.
Russia did not hack the DNC, McCaffee speaks up. SEE THIS
Trump is calling back all foreign ambassadors
Trump issued a direct edict to bring them ALL home, NOW.
Trump will be firing all foreign ambassadors to the United States, wherever they are, sight unseen. Every single one is getting the boot, and will be fired before inauguration day. No extensions or any other methods of staying in their jobs will be allowed, they will ALL be gone. And that makes perfect sense - Obama is a proven enemy of the republic and every last troll possible who was doing his bidding should be gone, BEFORE day one.
The New York Times mainly focuses on how heartless this is, and how it is going to "hurt the children" (a classic communist line) but in reality, this really is about Trump living up to promises and draining the swamp as promised. And it goes hand in glove with former CIA director James Woolsey getting kicked off Trump's team already because he already showed he was not loyal to the cause of making America great again. Obviously the media spin was that Woolsey left on his own will. FACT: Trump GAVE HIM THE BOOT, and I will guarantee you this will happen with any Goldman Sachs appointee or anyone else who is not dedicated to the cause of saving the nation. Don't worry about who Trump puts in, just watch what they do and if they get the boot. ONE DOWN PLUS ALL AMBASSADORS ALREADY. Good start!
There is more on Woolsey below the California report.
There were so many positive comments in the in box about the California drought report that I bumped it back up the page.
TRUMP SAVED WHAT IS LEFT OF CALIFORNIA, FAKE "DROUGHT" STOPPED AFTER ELECTION
Sounds ridiculous? Well, it is NOT. In 2013 I proved that there was no drought (other than one that was Haarp induced), and that in conjunction with the modestly effective Haarp induced drought leftists in California drained California's dams as fast as they could be safely drained, and dumped all of California's agricultural water straight into the San Joaquin river ON PURPOSE in the name of a spurious fish called the Delta Smelt. It was clearly done for the sole purpose of wiping out the orchards in the San Joaquin and replacing them with GMO, as well as bankrupting farmers so corrupted elite could buy up prime lands for practically nothing.
Obama did absolutely nothing to stop this direct criminal action against California agriculture, and now that Trump has arrived as the police man, they have stopped the Haarp drought and are as RAPIDLY AS POSSIBLE gushing rain and snow water into the dams to re-fill them and claim the drought ended naturally. This may all sound far fetched to those who don't know about weather modification and just how corrupt and evil the elitist Democrats are, but I have irrefutable proof here on this site that proves that in 2011 California got so much water it filled the dams up and they simply re-drained them while giving California growers practically nothing. HERE WE GO:
FROM MARCH 28 2014 - PHOTOS OF DAM DRAINAGE AS IT HAPPENED IN 2011-2012, THE END of the California orange
The following photos are absolute proof they drained the dams on purpose, causing severe flooding and NEVER gave california growers a SINGLE DROP for the sole purpose of killing all the orange orchards, grape vineyards and almond groves. It is important to note that with any war effort waged by the usurpers of a conquered government, that fake documentation will be produced by the government to support the lie. That is when you have to use photos to prove that the documents, which show a drought and reduced out flows, are fake.
HERE IS THE PROOF. 2011 was called a drought year that was so bad they could not give the farmers any water (heads up, this is good).
But how can that be true when the Sacramento river looked like THIS:
WELL, People noticed that, so they hatched the lie that the flooding happened because the rain was selective, and all fell in the valley and not in the mountains, which is why the dams were "empty" and they could not give the growers any water. And the media stuck with the lie, and the people trusted the media. BIG MISTAKE.
THIS is how it looked in the mountains:
THIS is how it looked on the outflow of the dams
AND THIS IS HOW IT LOOKED BEHIND THE DAMS IN 2011, THEY WERE CHOCK FULL TO THE BRIM, AND STILL THE GROWERS GOT NO WATER:
CHECK MATE, THE ENEMY OF AMERICA, THE NEW WORLD ORDER AGENDA 21 ZIONIST, HAS BEEN BUSTED. HOW CAN YOU GO FROM HAVING THE DAMS BE LIKE THIS, ABOVE, IN 2011, GIVE THE GROWERS NO WATER AND THEN HAVE THE DAMS LOOK LIKE THIS, BELOW IN 2013? THEY DON'T JUST DRY UP, YOU ARE BUSTED.
My guess for all of this? It is possible they are bankrupting all the growers by killing all the legacy trees via denial of water, trees which are not GMO, so that one billionaire can move into the valley, buy it all, plant it entirely with GMO and ram GMO down America's throat. It could also be that they are planning a mass starvation of the American people, and the San Joaquin, which produces practically everything from almonds to grapes to strawberries to oranges, enough for much of the world, has to be killed before they can actually succeed in starving America. With much of what the San Joaquin produces, you can't get it back in a year, it will take decades so it won't do any good to just start managing the water properly once everyting is dead, it will take years to come back. By then the starve off will have been accomplished.
UPDATE:
They responded to this article QUICKLY. There is no underground water left as some state, all of it was pumped out in 2009 and 2010 to save the orchards when they cut the water off, and now the ocean has back flowed all the way to the valley and they can only pump salt. The water is GONE. And WHY was the San Joaquin at flood stage for three consecutive years during a "drought" if they were not letting the dams go to kill the San Joaquin valley ON PURPOSE as I clearly show below?
The entire San Joaquin report follows.
I have taken an important chart from that report which was produced by Forbes and moved it to the top (for the 2017 re-post) so people can clearly see that California did not have a significant drought up until at least 2014 and that the photographic proof above is definitely real. I will look for an updated chart to show 2015 and 2016 which might show the effects of weather modification and a real drought for the last two years but the orchards were so killed off by the time I posted this chart from 2014 that I basically gave up on the topic.
I am re-posting this with updates because it is so important.
I was actually in the San Joaquin valley when the effort to destroy it started. In 2008 I saw the Sacramento river carrying all the water from the dams straight to the ocean, it was obvious they opened the dams to intentionally drain them. During this time, when the river should have been at a low point, it was at flood stage and even after having a lot of experience with dangerous rivers such as the Mississippi, and having seen the Yukon at flood stage, the Sacramento river was absolutely spooky to see at this time - obvious death for even an experienced swimmer.
During this time, the media was pushing the lie about how water was limited, all the while they were draining it to the ocean - "limited" because "there was a drought." But reality is that the rain in California has been within a perfectly normal range for the last 10 years, there has been no drought and even if there was a drought the reservoirs that were built to supply the San Joaquin had enough reserve, absent being drained, to keep California agriculture alive for a full five years with no rain at all.
Now, (for the last six months) there really has been less rain than usual, and it is obviously caused by chem trails and Haarp. They are manufacturing a real drought at this time in the hopes that people will not realize that prior to now the rain has been perfectly normal over the last 10 years and STARTING NOW, the San Joaquin should with a truthful lack of rain be able to hold on for five years. Unfortunately the dams are already drained so they will succeed at killing the San Joaquin this summer, the summer of 2014.
The original article follows:
After draining the dams on purpose was done by the "elite" to destroy the San Joaquin valley, Haarp is being used to finish the job with a real drought. Read on, I have proof that this has been in the works for six years.
(scroll down to see it in pictures if you don't have time to read a long article)
FACT:
Many of the orchards and prime agricultural zones have already been intentionally killed via denial of water by the choice of the elite. This was caused by draining all the dams and flushing all the water out to the ocean ON PURPOSE. And if you believe the lies in all the stats and charts used to cover up this horrific fraud of a drought on America,TAKE A LOOK AT THIS VIDEO AND ASK YOURSELF,WHY WOULD THEY LET THAT MUCH WATER GO IF THE DAMS WERE EMPTY? THAT FLOOD SHOULD HAVE BEEN USED TO FILL THEM.
Here is what is really going on -
America's enemies which have taken control of the country by the throat obviously want the San Joaquin gone from America's list of assets. The San Joaquin is a natural desert, which was only brought to life via irrigation projects and reservoirs. No "drought" can change this fact. Several people who are among the "elite", most notably Warren Buffet bought all the reservoirs in violation of law (at least the original law the reservoirs were agreed to be built under) and drained them into the ocean rather than give the water to the farmers (which also violated the water contracts the farmers signed onto) in the name of an imported and not native fish called the Delta Smelt. These fish were brought into California around 100 years ago and are not natural to the area at all.
There has ALWAYS been plenty of water in California. The irrigation projects were vastly overbuilt and were more than enough to handle an extended drought, (which there in fact has not been despite claims) up until now. But once America's enemies among the elite got control of the dams, they simply opened the floodgates and sent all the collected water straight to the ocean down the Sacramento river, causing a large amount of flooding and draining the water supply that California orchards and agriculture needs to survive. And they did it in the name of a fish that did not belong there anyway, an obvious act of war. Since the farmers subsequently did not get their water, a lie of drought was hatched in the mainstream media (including mainstream fake alternative media), a lie laid waste by the rainfall chart that even Rense posted.
This was an act of war against the American people, launched by NWO elitists to destroy America's most prime agricultural zone. Make no mistake, the New World Order crowd absolutely HATES America, and will be America's "friend" only to whatever extent it takes to deceive an ignorant populace long enough to have that populace stand idly by as America's greatest assets are WIPED OUT.
The San Joaquin agricultural zone was far too much of an asset for America's conquerors to tolerate having around, so they just took control via government corruption afforded by rigged elections and shut off the water.
Now there are hundreds of miles of dead orchards there, stretching as far as the eye can see. And the State mandates that the growers cut these dead orchards down, so six years into this war there are equally vast expanses of dead earth that were only a short time ago fertile orchards.
So when you hear MANY in the so called "truth movement" haarp all about how the San Joaquin died because of Fukushima, KNOW THE LIE. MANY IN THE "TRUTH MOVEMENT" HAVE EVOLVED INTO BEING THE ENEMY OF TRUTH. Let's PROVE IT RIGHT NOW, with a few pictures of the San Joaquin from MORE THAN A YEAR AGO, LONG before this so-called "drought" which happens to be Haarp caused and actually is real. REAL BUT IRRELEVEANT, THE SAN JOAQUIN IS ALREADY DEAD.
Here is the California precipitation chart everyone is now quoting. Look at the history here, there have been plenty of other periods that were a little bit dry. The only dry period on the chart is the recent Haarp attack that has spanned five months, since September of 2013 (when the water year starts) up until now, in Feb of 2014. The real drought, the HAARP drought has only been going on for FIVE MONTHS. 5 months won't empty the dams or kill orchards. LOOK AT THE ACCIDENTALLY TRUTHFUL CHART BELOW WHICH WAS POSTED BY FORBES, AND THEN TRY TO EXPLAIN THE FOLLOWING PHOTOS OF EMPTY DAMS. WHY ARE THEY EMPTY ALREADY, WHEN UP TO SEP OF 2013 THE RAIN WAS WITHIN A NORMAL RANGE?
From the chart above, it is OBVIOUS there has been no drought. Even in 2010 and 2011 the liars in the MSM talked all about how little rain California got, and the chart proves that those were both very wet years. But people still trust the MSM, even when getting soaked. The subsequent years were NOT BAD ENOUGH TO MAKE THE DAMS LOOK LIKE THIS: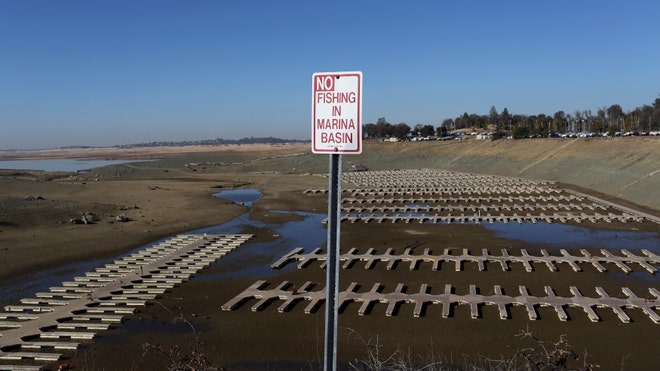 The chart from Forbes PROVES: These orchards are NOT dead because of drought and the dams are NOT empty because of drought, they are empty because a few priviledged enemies in the New World order got into America's government and chose to drain them so they can get America by the throat in a future catastrophe THEY ENGINEERED. The enemy would surely love to blame it on Fuku, DO NOT let a lack of knowledge draw you into that trap.
The photo to the left, which Rense posted clearly shows that Haarp is indeed being used to stop the rain from reaching California. But this is being done to create a real drought only AFTER the San Joaquin has been severely damaged from lack of water. 2011 gave the orchards another year, up until 2010 the farmers were able to pump wells to water the valley. But the wells went mostly dry by the end of 2010, and 2011 was a godsend because they had no other water, and were denied it from the reservoirs, water which they got from a very wet year that should have filled the reservoirs. I know, I WAS THERE DURING IT. It rained all the time and this saved the orchards. But after 2011, the orchards took a severe beating from being denied water during a normal precipitation year following a very wet year that should have filled the reservoirs, and this haarp blockage will no doubt be the final death sentence for the San Joaquin, because even if there is an agreement to save the orchards, the NWO crowd already emptied the dams. There is no where to go now.
Barbara wrote:
Hi!
Wow. Finally I am validated. You said exactly what I have been saying, that we have NOT been in a drought, that our water has been normal for years, that yes we had little rain this year but we could see blatant chemtrailing which caused it. I live in Santa Barbara where our Lake Cachuma has gone almost dry. I have considered it might be partly due to fracking, but the water system has no particular connection to oil wells here. When we moved here, SB had been in a drought for 7 years, still the Lake was fairly full. It was, they said, the first day of rain they had had, although they did have a few inches every year prior, just not much. I came from LA where I participated in 3 or 4 dry times when water was rationed. I AGREE WITH YOU that this has been done on purpose. I am a lifelong Californian. I know my environment.
But, I had zero idea, had not heard at all, that they were draining the dams into the ocean. Makes total sense. I do remember one year (1970-ish) when Lake Shasta was almost dry, but it came back the next year. Lake Shasta currently seems to be the focal point of destroying our environment according to Dane Wiggington.
So, Thanks for your article, but I think even if I print it out and give it to my friends and family they will likely dismiss it -- I am continually amazed at how extremely educated people do not see what is happening!
My response: I lived in California as well, in the San Joaquin valley. I knew it HAD TO BE patent b.S. because it rained and rained and rained and rained. That is why the dams were chock full and the San Joaquin had such a huge outflow, because 2010 completely filled the dams, and 2011 produced uncontrollable flooding because the dams were already full and the farmers did not get to use them, so the dams had no reserve capacity left for 2011. Yet the lie prevailed and I can tell you why:
The bankers have propped up the American dollar and made sure everyone got their antidepressants and stayed fat and happy. That keeps them from asking any questions. Hungry people ask questions, and when the hunger starts, the elite want there to be NO WAY to make it go away. That's how wars are often fought, and it will all be blamed on nature because people have been educated into blind stupidity as a preparatory move before killing them like idiots.